The Lumber Heritage Region funds protective panels for Serenity Glass Park.  In 2017 the LHR welcomed a new attraction to the region. Located in Port Allegheny, PA the Serenity glass park is a colorful display of glass representing the work and assets in the region. With displays up to sixteen feet high, you can view a sparkling castle, a tree of life and memorial and honor blocks.
Over the years the wear and tear on the park have threatened the beauty and integrity of some of the glass pieces. That's when Susan Carlson and Linda Devlin approached the LHR for help. Fortunately, the LHR was able to give matching dollars to the park through DCNR Partnership Funds to purchase protective panels for the sixteen-foot displays representing the region and all it has to offer.
The Western New York Glass Company was able to install clear panels on three of the displays to protect them from further damage from the salt and dirt from the nearby Route 6 traffic. "This is an important piece of history, and a proud piece of artwork for the community of Port Allegheny. I am happy we could help to protect this vital part of the Port Allegheny community." States Executive Director Holly Komonczi.
Be sure to add the Serenity Glass Park to your list of LHR sites to visit and to share your experience in Port Allegheny to our social media.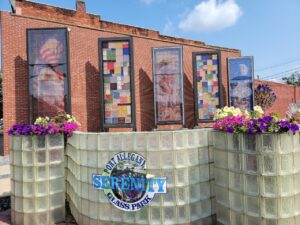 In the picture: Holly Komonczi, Executive Director of the Lumber Heritage Region and Susan Carlson, Serenity Glass Park