The Lumber Heritage Region is excited to announce the completion of a mini grant project that provides visitors to the Mt. Jewett to Kinzua Bridge Rail Trail an educational experience while enjoying the 3.89-mile trail stewarded by the Mt. Jewett to Kinzua Bridge Trail Club (MJ2KB).
The LHR is happy to announce a series of industrial history interpretive panels and a historic mural along the Mt. Jewett to Kinzua Bridge rail trail. The interpretive signs teach of the industries that supported the rail system in the region. The first panel tells the story of General Kane's efforts to build Mt. Jewett. It also highlights the roadway now known as Route 6, another Pennsylvania Heritage Region. The second panel focuses on the use of sand, natural gas, shale, and fire that was used in the glass and brick industries. Third, you will find the panel showcasing lumber and stories of the past and present importance local lumber has across the world. The fourth sign tells the history of the railroad that is now used by visitors near and far as a recreational resource.
The mural tells a story of the diverse history of Mt. Jewett and its nearby attractions. The Swedish heritage, strong faith, and leading men and women who impacted the region are depicted here. This colorful mural is an artistic poem about life in Mt. Jewett.
The Mt. Jewett to Kinzua Bridge Trail is a part of the larger (74-mile) Knox and Kane Rail Trail. The Knox Kane Rail Trail is a four-county (Clarion, Elk, Forest & McKean) rail trail corridor. This multi-use, and handicap accessible trail is open for hiking, bicycling, running/jogging, skiing etc.
Holly Komonczi, Executive Director of the Lumber Heritage Region states, "It is important that we share with visitors the story of the industries that served our region; lumber is a big part of this story, and we are hoping the youth will take interest in staying in the region and finding innovative ways to make a career with local assets and products."
The Lumber Heritage Region holds a key to the rich heritage of Pennsylvania's forests. The LHR has countless adventures to experience from kayaking and hiking to museums and historical landmarks.  The Department of Conservation and Natural Resources' (DCNR) partnership grant program has given the LHR a vehicle to fund projects in the 15-county region that has leveraged over 3.5 million dollars.
For more information on the projects funded through the Lumber Heritage mini-grant visit www.lumberheritage.org/grants/mini-grants-by-county/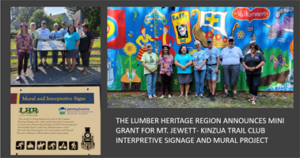 Picture in front of the mural includes Carolyn Stroup (MJ2KB), Angela Cornelius (the artist), Holly Komonczi (LHR), Alice Forquer, Jack Forquer, Ron Keim (all three from the MJ2KB) and Jennifer Swatsworth (LHR).      
Picture in front of the Trail sign includes Angela Cornelius (local Artist), Carolyn Stroup, Ron Keim, Alice Forquer, Jack Forquer (MJ2KB members) Holly Komonczi (LHR), Matt Benson (MJ2KB) and Jennifer Swatsworth (LHR).