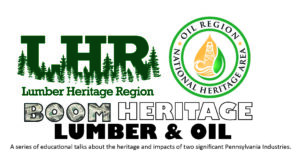 Two of the state's twelve heritage regions are joining forces to share information about two prominent industries that built America during their boom days, lumber and oil. These presentations will be virtual and available to everyone.
The idea of the project is to highlight the links between the two industries and share the stories of the past, present, and future. "We are hoping to educate the public about these two industries and the impacts they have made in our regions." says Holly Komonczi, LHR Executive Director.
These third Tuesday Boom Heritage presentations will start January 18, 2022 @ 6:30 pm with the Pennsylvania Lumber Museum and the Drake Well Museum giving a show and tell of the tools and artifacts used during the boom era in one or both industries that are not always on display at the museums. Next, on February 15, A Roust About and A Wood Hick will reenact their tales from their boom days with participants able to ask our reenactors about a day in the life of these characters. In celebration of Women's Month, Women in the Lumber and Oil Industries will be showcased on March 15 highlighting the roles of women during the height of the oil and lumber booms. These often-overshadowed stories will illustrate the importance of women in the industries. And lastly April 19, the presenters will share the environmental impacts of oil and lumber extraction in Western PA. What it was like before and after the laws and legislation were put in place for the two industries.
"The Oil Region National Heritage Area is excited to work with the LHR to illustrate how much history the two regions have in common." says Jenn Burden, Oil Region Alliance Heritage Program Manager.
Lumber has been influential in Pennsylvania since the arrival of the first European settlers. Pennsylvania hardwoods are still highly sought around the world even today. We recognize the potential for growth in the Forest Products Industry and hope continued education will mentor this idea, comments Komonczi.
Each presentation will be unique, you can sign up for one or more presentation by visiting https://lumberheritage.org/discover/boom-heritage-presentations/. All presentations will begin at 6:30 pm.