Introducing A Free Lumber Paddling Booklet
Want to explore the Susquehanna River in a new way this season? The
Susquehanna Greenway Partnership
(SGP) and Lumber Heritage Region (LHR) are excited to announce the release of a new booklet that will allow users to explore the logging history of the Susquehanna River Water Trail's West Branch right from their kayaks.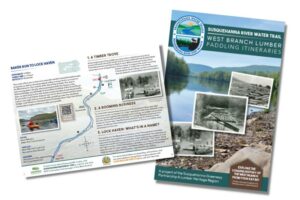 The Susquehanna River Water Trail is a state-designated water trail for motorized and non-motorized on-water recreation. The new booklet showcases 4 paddling itineraries along the West Branch from a history perspective, focusing on the lumber heritage of Clinton and Lycoming counties.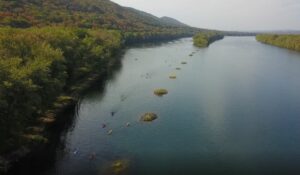 Each itinerary features a unique paddle route with points of interest related to the unique character and history of this section of the river. Itineraries include the length and estimated time for paddling the route, a map of the route, put-in and take-out locations, a difficulty rating, and trip highlights to look for along the way.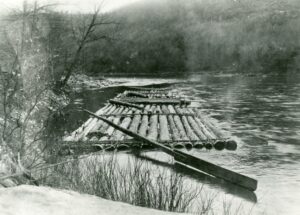 In addition to the itineraries, the booklet also provides an overview of the West Branch, plus an article that details the bigger picture of historic logging within this region.
SGP and LHR are partnering with the Clinton County Visitors Bureau to distribute the booklets, where they will be available at their location for free.
Geographically, the Susquehanna River Water Trail's West Branch flows from Cherry Tree, PA to Northumberland, PA. The itineraries within this booklet focus on the segment of the West Branch that crosses Clinton and Lycoming counties.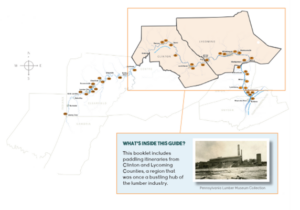 "What is really unique about this piece," explains SGP Director of Communications & Outreach, Alana Jajko, "is that we've included an online component to the booklet as well. Each itinerary has a corresponding QR code that links the user to an online virtual tour of the route with maps, additional photos, information, and links. These storymaps allow people to get acquainted with the route before they even hit the water."
For those new to paddling or those who need a refresher, the final page of the booklet also outlines a paddling checklist to help jumpstart the planning process for any kayaking or canoeing excursion.
The Susquehanna River Water Trail West Branch Lumber Paddling Itineraries Booklet was produced by the Susquehanna Greenway Partnership in collaboration with the Lumber Heritage Region. The booklet was financed in part by a grant from the Community Conservation Partnerships Program Environmental Stewardship Fund under the administration of the Pennsylvania Department of Conservation and Natural Resources, Bureau of Recreation and Conservation. This booklet and its contents may not be reproduced without the written permission of the Susquehanna Greenway Partnership.
The Susquehanna Greenway is a corridor of connected trails, parks, river access points, and communities, linking people to the natural and cultural treasures of the Susquehanna River. The mission of the Susquehanna Greenway Partnership is to continue to grow the Greenway by building connections along the Susquehanna River, inspiring people to engage with the outdoors, and transforming communities into places where people want to live, work, and explore.