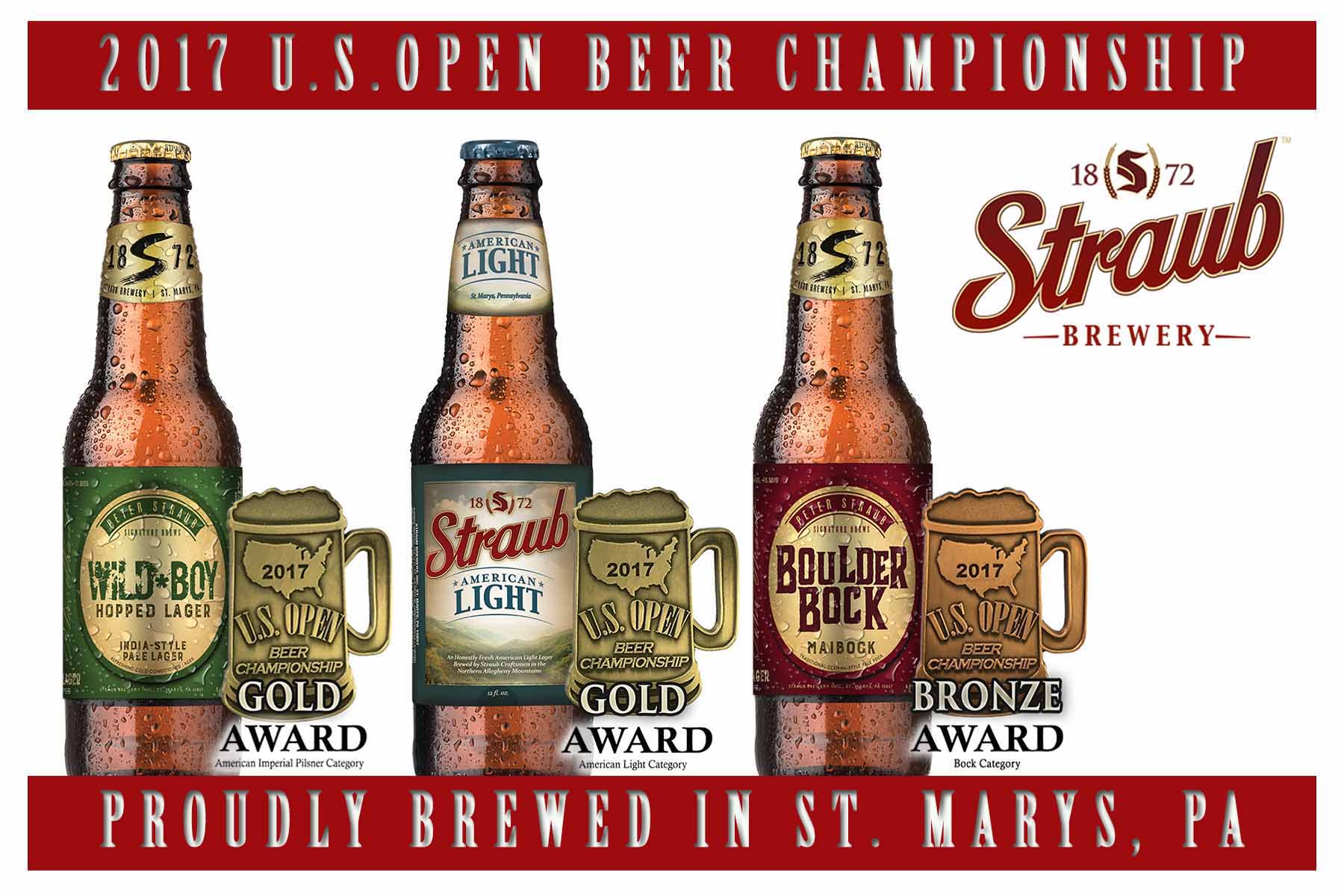 Oxford, OH (July 10, 2017) – Breweries from Vermont to Vietnam sent in more than 6,000 beers representing over 100 different styles for the 2017 U.S. Open Beer Championship, which announced winners today. The competition includes professional breweries and award-winning home-brewers, with judges from England, Canada and the United States.  Straub American Light Lager and Wild*Boy Hopped Lager both won Gold in the categories of "American Light" and "American Imperial Pilsner" categories respectively; while Straub Boulder Bock (Maibock) received a Bronze medal in the "Bock" category.
"We have been very pleased that our beers have been receiving various awards recently.  The entire Straub Brewery Team has worked very hard to expand our beer offerings and make each and every batch of beer we brew and package the very best," said Straub Brewmaster, Vince Assetta.  Vince went on to say, "It's awesome that Straub Light won a Gold, to go with the Gold medal won last year by Straub American Lager.  These two beers are at the very heart of Straub Brewery and our 145 years of traditional family brewing."  "Wild*Boy and Boulder Bock were two of our first specialty beers offered in 2013 and it is so cool that they both received recognition by the US Open Beer Championship for being great beers," said Vince.
Congrats to our Brewing Team; TJ Steele, Dave Baumgratz, Mike Pontzer, Mike Hoy, Rich Schatz, and Brewmaster, Vince Assetta!  Straub Brewery would also like to extend congratulations to all the breweries who received awards at the 2017 U.S. Open Beer Championship. Beer, regardless of brand should always remain common ground. Prost!
About Straub Brewery
Straub Brewery, Inc. is an international award-winning brewery founded in 1872 by German immigrant Peter Straub, who, at age 19, left his family and homeland in search of the American Dream. Today, Straub Brewery is an American Legacy Brewery™.
Located in St. Marys, PA, Straub Brewery is one of the oldest and most historic breweries in the United States, and is still owned and operated by its founding family, now into its sixth and seventh generations. Fodor's Travel named Straub Brewery one of the "5 Best Places in America to Drink American Beer."
Straub Brewery produces Straub American Lager, Straub American Light Lager, Straub American Amber Lager, Wild*Boy Hopped Lager (India Pale Lager), and 1872 (Pre-Prohibition Lager), as well as the "Peter Straub Signature Brews" series of craft beer styles, such as Kölsch Ale, Vienna Lager, Dunkel, Helles, Doppelbock, Maibock, Altbier, Oktoberfest, Pilsner, and Hefeweizen.
Straub Brewery has been the recipient of numerous awards, including Gold (Straub Dunkel) and Silver (Straub American Amber Lager) medals from the 2017 Best of Craft Beer Awards; Gold (Straub American Lager) and Bronze (Straub American Light Lager) medals from the 2016 U.S. Open Beer Championship; Bronze medal (Straub Kölsch Ale) from the 2016 World Beer Cup; a Silver medal (Straub Dunkel) and three Bronze medals (Straub Amber Lager, Straub Doppelbock, and Straub 1872 Lager) from the 2016 Raise A Glass Competition; the 2016 "Leadership in Reusable Packaging" Award from the Pennsylvania Resource Council for its 16-ounce Straub American Lager returnable package; and a 2015 "Brewer Partner of the Year" Award from the National Beer Wholesalers Association.
For more information and to connect with Straub Brewery on social media, please visit: www.straubbeer.com.