Obituary of James Craig Finley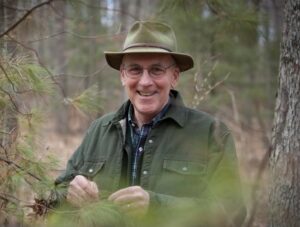 James C. Finley, 72, of Port Matilda, Pennsylvania, passed away on Saturday, October 2, 2021 in Ridgway, PA. Born December 6, 1948 in Munhall, PA, Jim was the son of the late Samuel A. Finley and Martha Eleanor Wycoff Finley.
He is survived by his wife, Linda Jones Finley of Port Matilda, PA, one son, Andrew O. Finley (Sarah R. Laubscher) of Okemos, Michigan, three grandchildren, Ava G., Oliver J., and Callum A., a brother, David A. Finley (Anna Marie Balint) of Coatesville, PA, and a nephew, Nathan Finley also of Coatesville, PA.
Jim graduated from Munhall High School in 1965. In 1970, he completed his bachelor's degree in Forest Science at The Pennsylvania State University (PSU) and began a career at the USDA Forest Service Northern Area Research Station in Broomall, PA. In 1975, he completed a master's degree in Forest Resources at PSU and was employed as an area extension educator in Dushore, PA. In 1981, he joined the School of Forest Resources faculty at University Park and advanced research and extension education programs on sustainable forest resource management focusing on private forestland. In 1991, he completed his doctoral degree in Extension Education at PSU.
Through his efforts, Jim reached hundreds of thousands with a message of caring for the woods in the state, region, and nation and his research became foundational for many seeking to work in the space of people and forest.
Jim dedicated his life to promoting the protection, health, and vitality of forests. To this end, in 1991, he founded the PA Forest Stewardship education and outreach program in partnership with the PA DCNR Bureau of Forestry, and coordinated the now over 750- PA Forest Stewards volunteer program.
Jim co-created and chaired PSU's Human Dimensions of Natural Resources and the Environment inter-college degree program and was a Pinchot Institute for Conservation Senior Research Fellow. He also served, most recently, on the boards of the Western Pennsylvania Conservancy, Foundation for Sustainable Forestry, Policy Council for WeConservePA, and many others. Jim was a Society of American Foresters Fellow, PSU School of Forest Resources Outstanding Alumni, and, among his many service awards, was recently recognized by Forests for the Bay as a Chesapeake Forest Champion.
During his tenure at PSU, he mentored hundreds of graduate students, undergraduates, and natural resources professionals, and served on numerous committees for the Bureau of Forestry, other state and federal agencies, and organizations focused on forests and people around the world.
Later in his career he established the Center for Private Forests at Penn State and, despite retiring in 2017, worked tirelessly to foster the Center's development and growth. Jim spent his free hours working in his woodshop, volunteering at the faith-based Krislund Camp in Madisonburg, PA, and enjoying the woods, family, and friends.
A celebration of Jim's life will be held at 1pm on October 30th at the State College Presbyterian Church, where he was a longtime member and served as a deacon. The service will also be live streamed and archived on YouTube (available here). Please see the church website for details.
In lieu of flowers, the family requests donations be made to the Center for Private Forests at Penn State, Krislund (krislund.org), or an environmental conservation organization of your choice.
Arrangements are under the care of Koch Funeral Home, State College. Online condolences may be made by visiting www.kochfuneralhome.com.